Nobody nominated me to do this post, but I'm doing it anyway. 😛 So then, why am I doing this tag? And it is because-
a. I am a bit of a narcissist.
b. I want you guys to get to know me better as a person.
c. I'm trying to be regular with my content, including writing about personal topics.
So, here are 10 facts about Mahalakshmi, the girl behind Melange of Words. (Gosh, I sound so conceited here, but anywhooo. :P) I have jotted down stuff that are a little quirky, something that might give the person reading this (if anyone ever does that, thank you!) a quick perception of me.
#1- I  have the biggest sweet tooth ever. I can forsake chips, fries, pizza, pasta and all that fried jazz. But if you offer me a cookie, cake, chocolate, sweet or ice cream, this is me-
I'm most probably going to take it from you in a jiffy. And before you know it, you might see that half of the plate has vanished. And we all know who is responsible for that. *sheepish face*
#2- I have a hard time being in touch with people, friends and family included. I can very easily not communicate with a friend for over a month, go MIA. And then, when the other person starts questioning if I'm alive, lost my phone or super mad at them- I do reply. Not the best way to maintain relationships, but I'm trying to kick this habit.
#3- I hate lemongrass, kefir, galangal and anything lime-flavored in my savory food. I actually get physically nauseous, and have sent back dishes quite a few times in a few restaurants. This is one reason why I don't like Thai food, especially the curries.
#4– I am a forgetful, FORGETFUL person. There are so many examples I could give for this fact, but let me tell you one that happened just yesterday. My husband told me to switch off the lights in a room and then carry on doing whatever I was up to. I nodded my head at the moment, but immediately my brain somehow vaporized this information. And then when he got rightfully mad at me half an hour later, I looked puzzled for a few seconds. And then, this is my face as I realized why-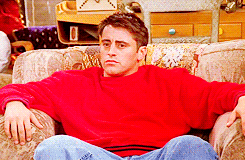 #5- I have to mindfully practice looking at a person's face when I'm having a conversation. Err, you'd think, what does that even mean? I have a problem of looking up at the ceiling when conversing, and I've been made fun of many times for this. Now, my presence of mind (and eyes) is on looking at someone full in the face, into their eyes when I'm talking. Yes, even during an interview- I will look into their eyes and talk. Sorry to all those I might have creeped out unconsciously in doing so.
#6- I am obsessive with my body image. I will count calories and macro-nutrients to the closest degree, driving anyone around me mad at times (myself included). I know this isn't the best habit to live by, but I've been this way ever since my major weight loss a few years back. I can go rambo on my own ass if I've gained even a kilogram or two, and will work my mind and bum off. But, that doesn't stop me from eating cheat meals every week. 😛
#7- I am also a little obsessive-compulsive when it comes to bathroom doors being left open. It should be closed at all times, when I'm in the room that is.
#8- I am a messy eater when it comes to eating chocolates, wafers and oreos. There is a method to my messiness, and here is how it goes- I like to first nibble at all the sides, then separate the top and bottom layers, eat the cream bit and finally eat the plain wafer/biscuit part. Please tell me I'm not the only one who does this.
#9- I can sing pretty well, if I may so myself without sounding pompous. I have sung in the school choir and participated in singing competitions when I was about 12 years old. These days, I just hum songs while going about my day. I don't just sing the lyrics, but also make the background beat noises. Which makes my husband laugh, but hey, that's me. 😛
#10- I am quite indecisive. Menus, careers, clothes- I need to overthink in order to make a choice. When I decide to buy a top at a store, I take almost an hour at times to decide between two options. My husband would find me staring with concentration at my laptop for hours, thinking I'm doing something productive. But no, that's just me researching where to eat out on a weekend.
With that, I have given you a peek at who I am and rating my normality on a scale of 1 to 10. I think I lean towards a high 9, and I'm proud of that. #sorrynotsorry #didthatevenmakesense
I am too shy to ask anyone here to do this tag, but I would love a few facts about you in the comments or even on your blog. So, anyone and everyone is nominated! Do send me a link to your post if you do so, I promise I will read it. 🙂
Thanks for enduring this long post, and I will be back again very soon.